Carol Brown Monnens

"Sam"

Class Officer 53,54; Pep Club Officer 55;

Sextet 55; A Cappella 54,55,56; Glee Club 53,54,55,56.
December 2006 Carol remarried to Larry Monnens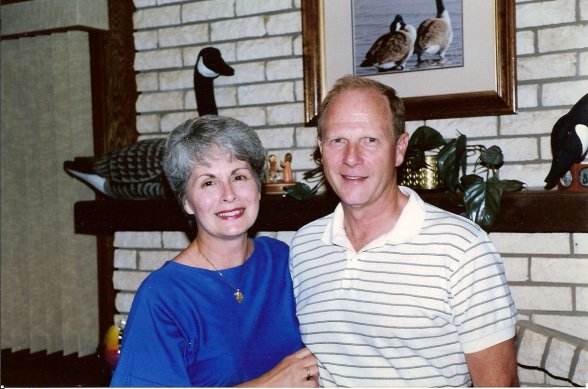 Many of you may not know that Carol's husband Larry passed away October 11, 2000.
Click for more information
2006
After high school, I attended William Jewell College. There 1 met my future husband, Lawrence A. Nickles, Jr. (Nick). Following our marriage on June 1, 1958, we moved to Newport, RI, where Nick attended Officer Candidate School for the U.S. Navy. Upon completion of the OCS program, Nick received his first commission and we were transferred to San Francisco, CA. Nick began his 3'/2 years of active duty and I went to work for a division of Westinghouse. Our first two sons, Larry and Mike, were born during our time in San Francisco.
When my husband was released from active duty, we moved back to Liberty, MO and shortly thereafter our third son, Brad, was born. We stayed in Liberty while Nick went back to graduate school for Psychology and about the time he completed his Master's Degree our fourth son, Eric, was born.
On January 1, 1971, just days before a crippling blizzard, we moved to Willmar, MN where Nick went to work as a Clinical Psychologist for the Willmar Regional Treatment Center. Our fifth - and final - son, Richard was born in 1972. In 1978 I went to work in the medical records department of a large medical clinic in Willmar. I continued working there for the next 17 years in an attempt to help finance a seemingly endless string of college tuition bills that began appearing in our mailbox.
In 1999, my husband was diagnosed with a rare bone marrow disease called Myelofibrosis. He began chemotherapy treatment at the Mayo Clinic in Rochester, MN in February, 2000 in preparation for a stem cell transplant. The following October, Nick died after a series of lung infections that he had contracted due to the lack of immunity caused by the chemotherapy.
We were blessed with 42 wonderful years working together raising our sons and putting them through college. We then enjoyed our time traveling around visiting our sons and their new families in such places as Minneapolis and Duluth, MN; Tampa, FL; Door County, WI and Kearney, MO. We especially enjoyed the time together on our special trips to Minnesota's North Shore of Lake Superior. We loved hiking the waterfalls and would sit for hours watching the waves crash against the shore of the "Big Lake".
In 2003 I left Willmar and moved to Duluth, MN where I could be close to two of my five sons. I enjoy spending time with four of my seven grandchildren here and am now never very far from the "Big Lake" that my husband and I so thoroughly enjoyed together.